Almere store large sizes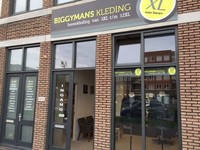 Large size men's store

Tel: 036-8410310 or 06-24828515

Opening hours
Monday: Closed (except by appointment).
Tuesday to Saturday: Open from 10:00 to 17:00.
Every last Sunday of the month: Open from 10:00 to 16:00.
Other Sundays: Closed (except by appointment).

Sunday opening 26 MARCH, WE ARE OPEN FROM 10:00 TO 16:00.


Want to come along in the evening hours, create a private appointment. You can do this by phone number 0624828515
See how our customers appreciate us as men shop big sizes, see the movie below.
Hospitality and service
In the shop of Biggymans Fashion we are always on hand to help you find the right men. We want you to join us feel comfortable and welcome you with a welcoming cup of tea or coffee or a glass of chilled water. We also have more spacious fitting rooms, a pleasant temperature in the store. Also, you can sit down in our shady nook. For the store is free parking. You can pay in the following ways: cash, debit or credit card.
Loyalty shop Biggymans Clothing
Customers who are in possession of our loyalty will always receive 10% discount on the new collection (not on discounted items and basic items) Do you also have a loyalty to our store to ask here than in our store. In addition, we also hold special promotions for our loyal customers with a loyalty card, you like this newsletter, facebook, twitter and website regularly!
Private appointment
We offer the unique opportunity a private appointment outside regular opening hours to make. The shop is at your disposal. This can be on a Sunday, Monday or in the evenings. If you wish, you can contact us and make an appointment.
Menswear bespoke, industrial and printing clothing
At Biggymans clothing you will find a wide range of large sizes, from size 2XL to 14XL. We sell sporty, stylish and classic clothing.
In addition to our wide range of men's, you can also come to us for work clothing in large sizes, to allow printing of your clothing or for specially tailored clothing.
Various suppliers we have a never-out-of-stock collection from which you can order various garments.
Suits / Costumes
Are you looking for a suit or costume, then you will definitely succeed in Biggymans Clothing. We sell custom-made suits, suits, trousers, jackets and wedding suits. A complete package you buy from as little as € 380, -.
We have several demo models and samples in our store, so come along if you are looking for a suit. We help you with the fitting of an appropriate costume or suit. Suits can be purchased at the store. The suits are made by the German family business Klotz, that makes all since 1949 quality suits and costumes.
pay attention
The assortment of the shop may differ from the clothing items in the store. To avoid disappointment, we recommend you to contact us prior to take to ascertain whether a specific product is available in our store.
With the original purchase receipt, you can return or exchange clothing. Upon returning to the store, you will receive NO money. For discounted clothing items we can give back any money, but you will receive a voucher worth the purchase price.
On Sunday, there can be no use of the loyalty card coupons or action unless stated in action!
BIGGYMANSKLEDING BIG SIZES MEN SHOP BENELUX