Online clothing size 2XL and 3XL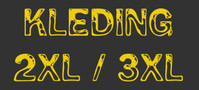 2XL - 3XL
Looking for menswear in sizes 2XL - 3XL Then you Biggymans Dress to the right place! Biggymans Clothing has long been specialized in offering clothes in plus sizes for men. We have a wide range of clothing in big men's sizes, such as pants, shirts, polos, sweaters, jackets and belts. Our clothing is known for its affordable prices and has a sporty and stylish character. At Biggymans Clothing activities include go for the brands: Kamro, Aero, and Arrivee Maxfort. Biggymans Clothing is currently the cheapest provider of large sizes for men within the Benelux.

In addition to a store in Almere Stad, Biggymans Clothing also has a shop where you can order online. When you order an item by 15 hours, then you have your order at home the next day. Provided the item is in stock. With us you pay no shipping.

With us you as a customer. If you have a question about one of our articles of clothing in large sizes, delivery or any other topic, please contact us. We ensure that your question will be answered within 24 hours.

For more information about our store or shop click here .
Below you will find our assortment in the shop for sizes 2XL - 3XL