Clothing online in sizes and 6XL 7XL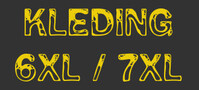 Are you looking for a clothing article or size 6XL 7XL? Then you Biggymans Dress to the right place! We have a wide range of men's clothing in large sizes, such as shirts, polos, pants, jackets, sweaters, belts and many other items. Our dress can be described as stylish, sporty and affordable. Biggymans Clothing has a selection of various quality brands in the assortment. You can think of: Maxfort, Kamro, Casa and Duke. Biggymans Clothing is currently the cheapest provider of men's clothing in large sizes within the Benelux.

Through our webshop you can order online men's clothing in large sizes. If you order before 15 pm, you have the article the next day at home. Provided this item is in stock. With us, the shipping is free.
If you have a question about one of our clothing products for men in big sizes, delivery or any other topic, please contact us. We help you and ensure that your question will be answered within 24 hours.

Want to know more about Biggymans Clothing? Click here for more information.
Below you will find our range in the shop for the sizes and 6XL 7XL.