Large size clothing online 8XL and 9XL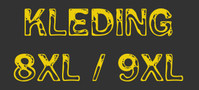 Are you looking for clothing items in sizes 8XL or 9XL? We are happy to help! Biggymans Clothing supplies have long been men's clothing in large sizes. Through our years of experience in this industry, we know what customers can expect from us. Our wide assortment offers you a wide choice of trousers, jackets, shirts, polos and more. Our clothing is characterized by the attractive prices and the sporty and stylish character. Biggymans Clothing is currently the cheapest supplier of clothing for men in large sizes in the Benelux.

Biggymans Clothing offers you the possibility to order apparel products online through the web shop. If you order before 15 pm, you have the article the next day at home. Provided this item is in stock. With us you pay no shipping.

For us, the customer. If you have a question about one of our clothing products for men in big sizes, delivery or any other topic, please contact us. We ensure that your question will be answered within 24 hours.

Do you want to know more about our collection, our store or shop? Click here .
Below you will find our range in the shop for the sizes and 8XL 9XL.